We're still here! Coronavirus may have changed the way that we do things, but there is still loads going on!
Contact us directly by calling 0117 970 1058 and leaving a message, or email churchoffice@downendbaptist.org.uk.
Latest Updates – 25th July 2020
We are deeply thankful for all the ways in which, as a fellowship, we have adapted to being church at a distance over the past few months. We've been busy assessing our buildings and activities and putting measures in place to enable some meetings to take place safely, while ensuring those who can't attend remain connected. This work is now almost complete and the plan is to begin hosting some 'in person' activities over the next couple of weeks. We also hope to resume physical Sunday gatherings from September.
We're really excited to begin welcoming people to our building once again and details of events taking place, as they're confirmed, will be available via our news sheet and online events diary.
At the bottom of this page you'll find a summary of what to expect when you come to our building and documents related to their use.
Here's the latest on what we're up to:
Weekly Service – Online, Offline and in Person!
Online – Sundays at 10am
Our weekly worship service is still being streamed online every Sunday at 10am! You can watch 'live' via our services page or on our YouTube channel.
Connecting with our Offline Community
To connect with those unable to access the internet, written copies of the weekly message can be delivered each week to anyone who would like one.
We've also got a telephone service which enables people to listen to the latest sermon recording simply by calling the number below. It's fuss free with no codes or options to select. Plus, calls are local rate so would be included in any inclusive minutes! Please do pass on the message to anyone you know who would benefit from this.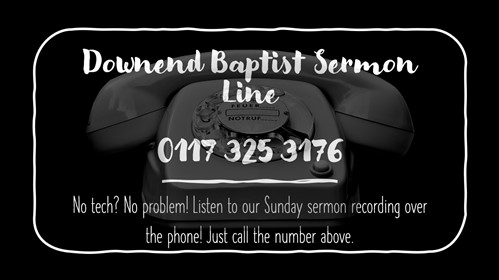 Midweek Gathering 
So that we can start getting used to managing the church building with the measures we've got in place to keep everyone safe, the plan is to begin by hosting some midweek gatherings. The content from these will be recorded to broadcast during our Sunday stream. Details of these, as confirmed will be on our news sheet and online diary, along with details of how to let us know if you're planning on coming along.
Weekly Prayer Gathering
As well as our Sunday morning live stream, we're hosting a weekly time of prayer, open to all, which can be accessed both online and by phone. Currently, this takes place each Sunday evening at 7pm.
You're welcome to join and simply listen if you would like, there's no obligation to join in – we have a mixture of scripture readings, simple liturgies and open prayer.
To join online, simply click this link: https://zoom.us/j/213767724. If you don't have zoom installed, you'll be prompted to do so when you follow the link.
To join by phone, ring 0131 460 1196 and enter meeting ID 213 767 724 when prompted.
Small groups
Several of our small groups are meeting online via video conference, with the option to join by phone as well – These are at 11am on Sunday plus Tuesday and Thursday evenings and we have the capability to add more. If you're interested in joining or being part of a group at a different time, please get in touch!
Children's and Youth Groups
Some of our children's and youth groups are continuing to meet online, while our leaders also remain available to support families. Many of our younger friends are also involved in a project we're running called 'operation lantern' which connects them with an older person in the church or community who they phone or write to each week. We've had lots of really positive feedback about this and how it is benefiting both adults and children. If you'd be interested in getting involved, let us know.
Pastoral support
Our pastoral team are continuing to work hard to to keep in touch with everyone in our directory and we also have a small team of volunteers able to assist with practical requests. Our ministers are also glad to offer support within the wider community.
If there are any needs you are aware of where we might be able to help, please don't hesitate to get in contact by calling 0117 970 1058 and leaving a message, or emailing churchoffice@downendbaptist.org.uk.
Community
As well as being available to our neighbours within the Downend area, we also encourage all our fellowship to get involved in supporting their neighbours and friends and to get involved with their local communities however they can.
Prior to lockdown, we were also beginning to pioneer the Downend Baptist Well-being Hub with the vision of offering safe space to be and to belong for people of all ages and backgrounds. We passionately believe that this is now more needed than ever and are working to resume as soon as we can.
A final particular need we're keen to help address is local food poverty. With that in mind we collect donations for local food-banks and homeless shelters. These are facing increased demand at this time so even if you can't get to the drop off points, contact us and we'd be glad to arrange to collect from your doorstep!
What to expect when you come to our building:
Things are obviously a bit different to normal in our building right now – so we wanted to give you a heads up on what to expect. In the video above, David gives a little tour of how things are set up and the points below outline the main things you need to know. Thank you for your support in looking out for one another!
We ask that people wear a face mask, at least until everyone is seated – the event leader will say if and when it is ok to remove them. We also ask that you always wear one if moving around during the event (e.g. to use the toilets). We have spare masks if needed, so don't worry if you forget.
Contact-less hand sanitiser is available around the building for your use. We ask that you use this on entry and recommend you use it when leaving.
We need to record who comes to our events in case details are needed for the track and trace system. A welcome host on the door will ask you for your name and a phone number that can be used. These records are securely stored for 3 weeks before being destroyed. 
Your host will let you know which route to use to go to and from your event area. A one way system is in place for larger gatherings.
One person at a time can use each toilet (Gents, Ladies and Accessible) and signs are in place to indicate when they are in use and where to stand while waiting. Children under 11 need to be accompanied by their parent/carer.
Personal belongings will need to stay with you at all times. Unfortunately coat hooks, cloakrooms etc cannot be used.
Singing, shouting or raised voices need to be avoided. We're keen however to learn how to worship in other ways!
Wherever possible, we ask that personal waste is taken home to be disposed of.
Other things that we're doing to keep people safe:
We have an updated schedule for cleaning in between activities and other cleaning measures, particularly focusing on sanitising likely touch surfaces. 
We're limiting the number of people and activities, to allow longer gaps between events.
Plastic screens are available to provide physical barriers where needed (such as on reception areas).
We're limiting access to non-essential areas to specific authorised people. Signage is in place around the building to explain protocols for access and use.
Documents related to activities in our building:
For detailed documents relating to how we're managing Covid-related risk, handling data etc, please see the documents below. For any queries not covered here, please do get in contact with us.
Our completed re-occupation checklist
Covid-19 Track and Trace – Amendment to our privacy policy